For more than 40 years, American Insurance Brokers has been a trusted and reliable commercial truck insurance agency. We pride ourselves on being experts in the field, providing knowledge and resources in a friendly manner. As a full-service insurance agency, we have the ability to help fleets large and small find straightforward policy options. Lake Charles is a special place, but natural disasters occasionally wreak havoc on Louisiana and the entire Gulf South. This underscores the importance of having fast, efficient access to commercial truck insurance in Lake Charles and beyond state lines. Here's what you need to know.  
What
Kind
Of
Insurance Does
A
Trucking Company Need
In
Louisiana
?  
There are two main driving corridors in Louisiana: Interstate I-10 in the southern portion of the state and I-20 in the northern region. Due to exceptional growth, both of these highways have significant traffic, which can lead to more accidents.  
An analysis of Louisiana truck crashes in 2018 showed the following data:  
8% of all commercial vehicle crashes in Louisiana occurred on interstates

 

9% occurred on state highways

 

3% occurred on U.S. highways

 
Further, when it comes to commercial truck insurance in Lake Charles, it's important to recognize weather challenges. Louisiana is a state that frequently experiences catastrophic events. This has a significant effect on the entire Gulf South trucking industry. For example in 2017, nearly 10% of U.S. trucking felt the impact of Hurricane Harvey.  
When flooding damages infrastructure, it's incredibly difficult to navigate alternate routes. However, the trucking industry becomes especially important during these times. Trucks are used to transport food, fuel, water, and critical power restoration equipment. Due to the recent weather event, Hurricane Ida, the FMCSA issued an Emergency Declaration to provide truck drivers with the flexibility necessary to support relief efforts. 
This highlights the importance of robust and comprehensive insurance policies for commercial trucking companies and drivers. When it comes to getting the job done during adverse weather events, it's important to have financial protection. At American Insurance Brokers, we know what you need, why you need it, and when you need it. Because we serve Louisiana, and other surrounding southern states, our team is always accessible, even during these stressful events. 
How

Does Commercial Truck Insurance In

Lake Charles

Work

? 
Making it in the trucking industry is no easy feat. It takes years to build a solid reputation that will help you provide for your family. For fleet owners, there is even more at stake because you have employees who depend on you to make the right choices. Simply put, every choice you make can impact their livelihoods. 
Honest mistakes and inclement weather can lead to catastrophic accidents. From fatalities to life-altering injuries, the aftermath can be devastating. Even in accidents that only result in property damage, the cost can add up quickly, especially if a truck is totaled. This is where the importance of insurance comes in. Having commercial truck insurance in Lake Charles and beyond is imperative.  
At American Insurance Brokers, we have decades of experience helping drivers and managers like you find the right insurance plan for the right price. We know that running a business comes with a lot of costs, which is why we have a tailored approach. Your rates will be specific to your unique business operations. After you choose to obtain insurance through us, we'll also take care of the necessary legal documentation to help you do your job, fast. We make it easy to get a free quote and add or delete drivers from policies. In some cases, we can bind policies in less than an hour.
What
Does
Lake Charles
Commercial Truck Insurance Cover
?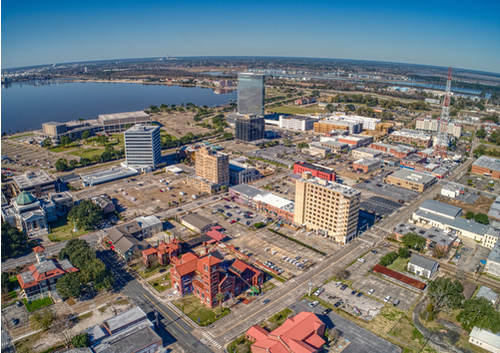 Commercial truck insurance requirements vary greatly depending on your location and other circumstances. In fact, your typical route and the type of cargo you haul will have an impact on the coverage you need. 
These are some of the various types of commercial truck insurance Lake Charles truckers often need: 
Commercial auto liability

 

Garage keepers legal liability insurance

 

Medical payments coverage

 

Motor truck cargo insurance

 

Motor truck general liability

 

Non-trucking liability insurance

 

On-hook towing insurance

 

Physical damage

 

Trailer interchange insurance

 

Uninsured motorist insurance

 

Workers' compensation insurance

 
With commercial truck insurance in Louisiana, drivers and businesses can receive the protection they need for a range of different situations. When you work with American Insurance Brokers, you can trust that we'll find you the best coverage for your company at a competitive price. 
It's also worth noting that American Insurance Brokers insures a wide range of commercial vehicles. Whether you simply need insurance for yourself or you're overseeing an entire fleet of trucks, we can help. While tractor-trailers are one of the more common types of vehicles we insure, we also work with: 
Box trucks

 

Car carriers

 

Dump trucks

 

Flatbed trucks

 

Log trucks

 

Moving trucks

 

Straight trucks

 

Tank trucks

 

Tow trucks

 
If you don't see your vehicle on this list, just give us a call. We understand the complexities of the trucking industry. This list is only the beginning when it comes to what we can support. Our team can put together a quote that fits your unique needs. 
Louisiana state and regulatory filing requirements 
Commercial truck insurance requirements are difficult to stay on top of. While they should always be a priority, they probably aren't top of mind when you hit the open road. At American Insurance Brokers, we go above and beyond to make sure you're always in compliance.  
We will facilitate the following Louisiana and federal commercial truck insurance filings: 
BMC34:

Cargo liability coverage

 

BMC91-X:

Public liability insurance, including bodily injury, property damage, and environmental restoration

 

FMCSA:

Federal Motor Carrier Safety Administration (FMCSA) registration

 

Form E:

Proof of meeting the minimum required insurance for one's home state

 

Form H:

Proof of meeting the minimum required cargo liability insurance for one's home state

 

MCS90:

Proof that the driver's financial commitment is in accordance with the state's minimum requirement

 

OS/OW COI:

Louisiana filing that proves sufficient liability insurance coverage for oversized or overweight vehicles

 

SR22:

Proof of meeting the minimum requirements for liability insurance in one's home state motor vehicle department 

 
The truck industry is unique, which is why the filing process is rarely one-size-fits-all. Knowing this, our team will closely examine your filings to ensure accuracy. This is a major advantage to using us for your commercial truck insurance in Lake Charles.   
What

Companies Have The Best Rates For

Louisiana

Trucking

? 
There are no hard and fast rules when it comes to commercial truck insurance rates. The best way to find a policy that fits your needs and budget is to work with American Insurance Brokers. We provide low-rate primary liability coverage based on your driving record, garage location, limited liability, type of operation, and the condition and age of your commercial trucks and vehicles.  
Our insurance policies will generally cover damage and injury to both the insured driver and any others affected by the accident. We even offer coverage across state lines when needed, as well as policies that cover products during deliveries and pick-ups. When you come to us for a free policy review, we'll discuss the range of coverage options available to you. Our agents are also knowledgeable in state laws and regulations and can always provide tips on which coverage may be best for your fleet. 
Find

Insurance Options Across

the South 
With decades of experience serving the southern trucking industry, American Insurance Brokers understands your unique needs. And, when the job takes you beyond Lake Charles, we can help you stay covered.  
In addition to Louisiana, we provide coverage in the following states: 
Traveling beyond these southern states? Give us a call. We're happy to discuss your situation and help you find the financial protection you need. 
Your

F

irst

C

hoice

 
At American Insurance Brokers, our goal is to find you the right amount of insurance at a fair price. One of the ways we do this is by offering a free policy review to both new and existing clients. We take the time to thoroughly examine the coverage you currently have, searching for ways it could serve you better. When you become a client of ours, we continue to offer this service every year.  
How do we conduct this type of review? First, our agents want to see low deductibles and high limits that will serve you well in the event of an accident. Plus, they check to make sure you're in compliance with all federal and state regulatory requirements.  
Last, but certainly not least, we want you to be on board with a responsive insurance company that is present when you need them. Lake Charles truck insurance is essential, especially considering the threat of natural disasters. American Insurance Brokers partners with dozens of "A" rated insurance companies to find you high-quality policies at competitive prices. Driving is your livelihood, which is why it's so important to have the coverage you need when you're in a pinch.  
At American Insurance Brokers, we want to help you find the best commercial truck insurance in Lake Charles. Give us a call at 1-800-256-1177 or contact us online to get your free review!