Box trucks are essential in transporting goods and materials across cities and towns all over America. They provide countless benefits, including the convenient, safe, and smooth transport of cargo.
However, as with any vehicle on the road, there are risks and liabilities in operating a box truck. Box truck insurance protects businesses from financial ruin in the event of accidents and unforeseen events.
Below we break down what you should know about box truck insurance. At American Insurance Brokers, we equip businesses and commercial drivers with the tools they need to select the best coverages possible. Read on to learn what coverages are available for box trucks, as well as the types of businesses that can benefit from box truck insurance.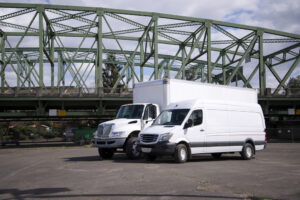 What is box truck insurance?
Box truck insurance is a form of commercial insurance for box trucks. This insurance coverage is beneficial for box trucks used in cross-town delivery, moving, freight hauling, and other services. Box truck insurance is specifically designed for this type of commercial vehicle.
Box truck insurance covers the risks and liabilities of operating box truck vehicles. Covering your box trucks can safeguard your assets and mitigate any potential losses in the operation of these vehicles.