27 Nov

How Does Commercial Truck Insurance Work?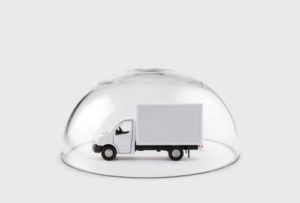 The trucking industry is the backbone of a thriving economy. It's responsible for moving millions of tons of goods across the country, from salsa and tennis shoes to lumber and cars. Commercial truck insurance is crucial for owner-operators and small businesses offering trucking services. The policies available vary based on the risks incurred, type of truck, goods carried, and the driver's experience.
What's a Commercial Vehicle?
Any vehicle used to transport passengers or goods for profit is deemed a commercial vehicle. When transporting people, it may be used to ensure employees get to the workplace or deliver people to other destinations. For transporting goods on a small scale, it could mean moving them from one business location to another or directly to individual customers. Pickup trucks, box trucks, taxicabs, coaches, vans, and buses can all be commercial vehicles if used for business.
Large commercial vehicles often involve a trailer. They haul heavy loads and are more powerful than most other trucks on the road. They also have complex gearing and are more cumbersome to maneuver.
Autos that carry a large number of passengers, cargo weighing more than 10,000 pounds and transports hazardous materials are also considered a CMV. Driving them requires specialized skills and situational awareness. It also means the operators must have a special driver's license, a DOT number, and other commercial markings. Flatbeds, tractor-trailers, dump trucks, and tow trucks are examples of heavy-load vehicles.
What's Commercial Auto Insurance?
Commercial policies protect vehicles allocated for business use against liability and property damage. If you drive a truck for business, it must have the right coverage. Personal auto policies will not provide protection. Coverage and terms vary based on your needs, which means you can get a customized plan created especially to address your risks.
Typical coverage available includes:
Liability for bodily injuries to others
Personal injury for you, your passengers and employed drivers
Comprehensive coverage for non-collision damages
Collision coverage, regardless of fault, for costs associated with a crash
Medical payments covering treatment, hospitalization and funeral expenses
Loading and unloading liability
Property damage liability
Towing and labor costs
Substitute transport while the crashed vehicle is repaired
Many businesses require Workers' Compensation insurance. It covers medical expenses and a portion of lost wages for employees injured or who become ill on the job. This insurance also protects businesses from being sued for workplace conditions that may cause injury or illness.
Some coverage may be included in your standard commercial policy, while others are optional and can be purchased separately. Optional coverage specifically for commercial trucks includes:
Motor truck cargo insurance – Protects freight when being transported by a third-party
Non-trucking liability insurance – Protects you if you are under lease to another motor carrier that provides Primary Liability, or if you are in a crash while using the vehicle for non-business reasons.
On-Hook Towing insurance and Garage Keepers Legal Liability insurance – Developed especially for businesses that use tow trucks, including auto body shops. These policies cover you if a customer's vehicle is damaged while being towed or while parked on your property. In Texas and Virginia, Garage Keeper's insurance is called Storage Location insurance.
Trailer interchange liability – Protects the trailer your rig is pulling if there is a trailer interchange agreement
You can choose coverage limits and deductibles.
Contact Us Today
American Insurance Brokers, Inc understands what insurance coverage drivers and small business owners need to protect their trucks and drivers. Contact us today and learn more about how we can provide the coverage you need at an affordable rate.