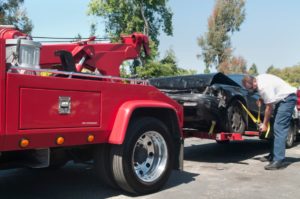 The state of Louisiana requires vehicle owners to carry liability insurance on any vehicle that is used on the roadways. Even vehicles used off road on company properties can only benefit from insurance. When you need to understand your options for tow truck insurance American Insurance Brokers in Mandeville, LA is here to help.
Why Do You Need Tow Truck Insurance?
Insurance protects your interests if a tow truck that belongs to your company — or is being operated for the purposes of your company — is involved in an accident or incident. The first type of incident many people think of is a collision on the road. A tow truck is heavy and can cause a lot of damage if involved in a crash, and a good liability plan helps protect your entire company from the financial damage that can occur if a lawsuit is filed. Insurance may also kick in to cover the cost of repairs or replacement to your truck and any injuries of your employees.
Depending on your policy, tow truck insurance may also apply in other situations. Something may fly from the tow truck's bed and damage another car on the road, for example. On the job, an injury or damage can occur if the tow truck is involved in an on-site accident, and in some cases, tow trucks may be damaged by vandalism or even stolen.
Understanding Your Tow Truck Insurance Options
It's important to know that all insurance policies are not the same. To ensure your tow truck or fleet of trucks is completely covered, reach out to the professionals at American Insurance Brokers today. They can help you find a policy that fits your business needs and ensures you're covered in the event of an unforeseen accident or incident. Contact the Mandeville office online or call right now to start the quote process.